Excerpt from the novel Rising Storm
by S.M. Stirling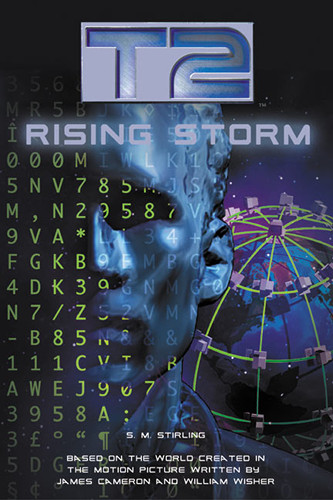 VON ROSSBACH ESTANCIA, PARAGUAY
*Craig Kipfer,* John wrote. *Definitely someone up to something. He's not in science or engineering or computing, at least not that I can discover. His name doesn't appear on any government payroll after his fifth year in the army, when he was honorably discharged. But his computer is hedged around with more protections than the CIA. Not that they're the very best, but that's beside the point. Just thought you might like to check him out.*
*You found him,* Wendy answered. *Why don't you check him out? He might just be paranoid. Lots of people are. What's he supposed to do for a living?*
*Hell if I know,* he wrote. *Look, if he notices that he's being watched and finds out where I'm from, he's going to think I'm more dangerous to him than I am and probably will act accordingly. If he gets your address he'll think mischievous student with too much time on her hands. Besides, I honestly think you're probably better at this sort of thing than I am.*
*Flatterer,* she wrote. *What do you mean he'll "act accordingly?" Do you think this dude is dangerous or something?*
Do I? John asked himself. Would he put Wendy in danger to satisfy his curiosity about this guy? Dieter didn't recognize the name, though he agreed the guy seemed suspicious. Frankly they didn't know enough to tell if he was dangerous or not.
*I can't answer that,* he admitted. *He's strange enough that I'd advise you to handle him with extreme caution. And if he does seem to become aware of you, lose his address fast. I wouldn't ask you to check him out if I really thought he was trouble, but anytime you do this stuff you're taking a risk.*
*I know,* Wendy agreed. *Okay, I'll look into it. I need to keep my hacking skills sharp anyway. Bye.*
John frowned. Kipfer's files were mysterious enough to raise a warning flag with him. With his experience, though, warning flags meant something very different than they might to Wendy. She could get herself into serious trouble. His mind shied away from the word danger. He felt vaguely guilty about possibly putting her in harm's way.
That's something I'll need to get over before I become the Great Military Dickhead, he thought scornfully. Still… Aw, c'mon! He's probably a lot less dangerous than those Luddites she used to tease. Which was almost certainly true, even if he was simply looking for an easy way out of an unpleasant feeling.
Maybe the reason for this guilt was that he really wanted to get to know Wendy a bit better. He liked her voice. Maybe I could call her again, he thought. Then he remembered that she hadn't been all that impressed with him the first time they'd spoken. Of course this time he'd be calling because he was interested in her rather than in her skills. But I don't think she'd appreciate my letting her know that.