Excerpt from the novel Rising Storm
by S.M. Stirling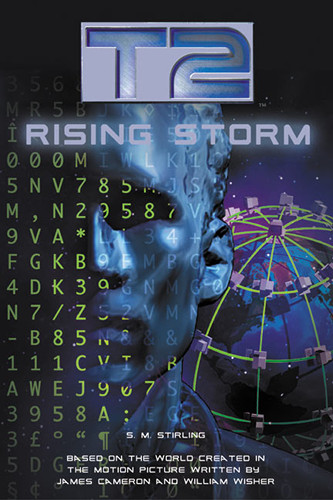 VON ROSSBACH ESTANCIA, PARAGUAY
Dieter entered the living room, where John half lay on the couch, reading a manual on source codes, a beam of bright sunlight spearing through one of the high clerestory windows to bring out the slight reddish hints in his dark hair. The Austrian dropped a package into the young man's lap.
John started as though he'd been asleep and looked from the package to von Rossbach. "What's this?" he asked.
"A package," Dieter said, with the slight edge of sarcasm.
John snorted. "Thanks!" he said, and rose. "I'll be in my room if you want me."
Sarah came in just as he was leaving and he leaned over on his way out to kiss her cheek. Her eyes widened and she turned to watch him go, then turned back to von Rossbach, her eyebrows raised in inquiry.
"Something came in the mail from that girl in Boston," he explained, sitting down in one of the leather chairs, the rest of the mail in his lap.
"Ahhhh," Sarah said thoughtfully. She moved slowly into the room. "What girl?"
This time Dieter's brows rose. "He didn't tell you about her?"
Trying to keep the hurt out of her expression, Sarah sat next to the big Austrian. "Uh, no." Her mouth twisted ruefully. "He is seventeen, and this is a girl and I am his mother…" She sighed. "I guess it's only natural he'd want to keep her to himself."
Dieter looked at her sympathetically. "But you're hurt anyway." As far as he could tell, they were unusually close. It was probable that until now they'd shared everything.
Sarah was quiet for a moment, then she wrinkled her nose at him. "A little. Maybe." Then she sighed. "It annoys me that I am, though, because, really, I'm pleased that he has someone. It would be nice if she were nearby…" She leaned toward him. "Tell me about her."
He shrugged his massive shoulders. "There's not much I can tell you," he said. "She's somebody he recruited on-line to keep an eye out for mysterious doings. Then, when we went to the U.S., he took her and her team the Terminator's CPU. She's a student at MIT," he added. "And clearly, something clicked between them."
"Hmmph," she said. "I guess I'll have to go to the source."
John closed the door to his room, tore open the box that Wendy had sent him, and pulled out her letter.
Hi, Sweetie, she'd written.
Well, that's flattering, he thought. One kiss… On the other hand, we felt close right off. Evidently three months' separation hadn't altered her feelings—and that was extremely reassuring. He read on:
Some of us went to New York this week to attend the New Day show. That's the show that Ron Labane of the New Luddites hosts. It was wonderful! I can't begin to tell you how inspiring I find him. I wish you could have been with us. About a hundred of us from MIT went down in buses.
A hundred? John reread that, shocked. A hundred MIT students went to the New Luddite show? Those people must be more powerful than he'd thought.
The idea shook him. He'd assumed the group would be just another flash in the pan, a this-year's-cause sort of thing. Certainly not the kind of thing that would appeal to really intelligent people. Like Wendy, he thought, troubled. He straightened the folds of her letter and continued reading.
I'm more convinced than ever that his brand of intelligent Luddism is the answer to so many of our problems: pollution, poverty, overpopulation. I have to confess to you right now that I took the pledge.
John looked up from her letter, frowning. She took "the pledge"? What the hell did that mean? He didn't think she drank.
In case you're wondering just what I've pledged, I feel a little awkward about telling you. I know I should have discussed it with you, though that might be presumptuous of me. And maybe you'll say I was swept away by the enthusiasm of the crowd. But I did take it, and I mean to keep my word
In case you haven't heard of the pledge, it's a promise to have no more than two children. If I divorce and remarry and my second husband hasn't any children, then I'm allowed to have one with him. Though ideally I would have had my tubes tied after I had my second child.
The hard truth is, the only way we're going to reduce our population is by making sacrifices like that. And reducing population is step one; everything follows from that.
Wincing, John lowered the letter and rubbed his brow with his free hand. Oh, Wendy, if you only knew, he thought sadly. Overpopulation was not likely to be a problem in a few years.
Anyway, I hope you won't be angry with me for going ahead on my own. But I know you're a sensible person and so I'm trusting you'll understand.
On a completely different subject, we also saw some of the sights while we were there and I got this for you at Lincoln Center. This is the most amazing sculpture; I'd love for you to see it for yourself. But the video is very good and has a "making of" section at the end that you'll probably find interesting.
Hope to hear from you soon. Love and kisses…
John pulled the video out of the mailing box and looked at it. On the cover was a photo of a weird-looking modern sculpture. He wasn't impressed, but then he wasn't a big fan of modern art. The back of the box was filled with not very informative blurbs from other artists and bits culled from critical reviews.
But, hey, if Wendy was impressed it must be really something.
He was trying, and he knew that he was trying, to suppress thoughts of Judgment Day. If there was a Judgment Day. Well, if there was, it would make Wendy's idealistic pledge seem rather foolish.
And yet, that she had made it moved him; still more, that she'd written to him about it. He felt toward her a tenderness more profound and respectful than he had yet experienced. He wanted to protect her, to shelter her from all harm. At the same time he admired her faith in the future. He smiled and shook his head.
Then he took the tape and inserted it into the VCR and sat back to watch.
There was a little explanation at first on how Lincoln Center had decided to erect a statue, and had commissioned the late Vladimir Hill to create it. Then there was a segment of film, greatly speeded up, that showed the thing actually moving. Its name was Venus Dancing and John's jaw dropped as we watched it doing just that.
The glittering column seemed to swoop and bend, stretching high and then stooping, the holes in its surface growing and shrinking as it moved. The whole thing seemed alive and its motion was graceful and very beautiful. Although, despite the pleasure of watching the lovely thing, something niggled.
Then the dancing segment ended and the "making of" section began. The sculptor, emaciated from his bout with cancer, described the process of creation. He told the interviewer that if he must die young, he had at least created the most unique sculpture in the world before he left.
Then there were scenes from the unveiling, where an almost unrecognizably healthy Vladimir was shown with a beautiful young woman who was the creator of Hill's new sculpting material, a substance she called Intellimetal.
It took a moment as he watched the smiling, blushing brunette, nervously adjusting her glasses. But it was that movement that attracted his attention to her eyes. The shock of recognition took his breath away.
"MO-OM!" he shouted, not moving from where he sat on the bed but only bellowing louder, "MOM! DIETER! COME HERE! NOW!"