Eddie Van Halen passed away this last week, which left me feeling much the same way I did back when Michael Jackson passed in 2009. These were two larger-than-life individuals and the world feels quite a lot emptier without just one of them around, let alone both.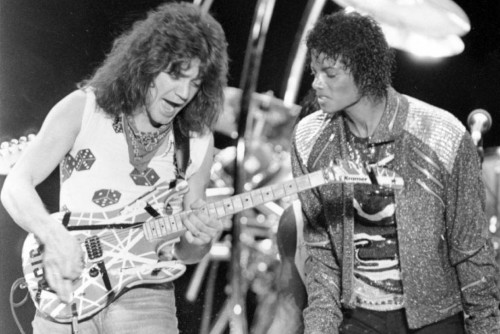 Like a lot of people, I formed a close association between these two musicians when they briefly crossed creative paths back in 1982, with Eddie contributing a shred guitar solo on the song Beat It from Thriller. This was my favorite song as a kid, and greatly influenced my musical tastes later in life. The album 1984 came out shortly after and was a potent blend of 80s pop mixed with hard rock/heavy metal. It also made a strong impression: there is no question that heavy, guitar-driven music infused with synthesizers is my happy place.
It just so happens that I recently ordered a pair of new JBL 308p monitor speakers for my music room and, in a wistful moment after setting them up, decided Beat It would be the christening song. I have always tried to not be an audio snob, but the audio clarity of these speakers is really is a cut above your average audio system. One thing led to another and I found myself binging Michael Jackson albums, particularly Dangerous. To say the album is wonderfully mixed would be an understatement—it has oodles of ear candy sprinkled on every track. (See if you can spot the use of silence as an element of percussion in the main riff/beat of Can't Let Her Get Away.)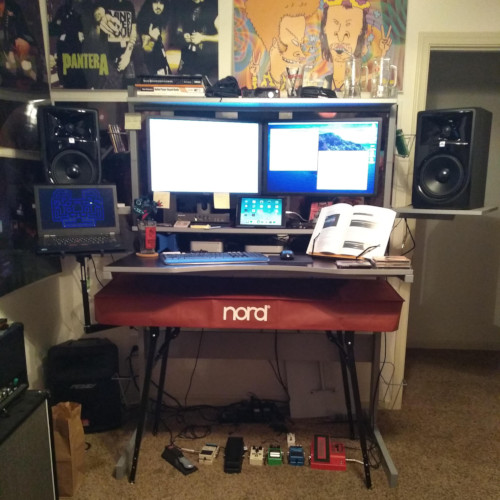 Something I have always noticed about this album is that eight tracks have the same general orchestration, aural presentation, and attitude/vibe, yet these are interrupted by six very different songs that are comparatively "out of left field," as the saying goes. Heal the World, Will You Be There?, and Keep the Faith are uplifting songs but stylistically clash in pretty much all ways with the rest of the record; Gone Too Soon is a slow pop ballad with completely unique instrumentation; and Black or White and Give in to Me are two guitar-driven rockers.
I started to wonder how Dangerous would sound if these sonically incompatible songs were made absent during another spin of the album. I was surprised and pleased to find that removing them resulted in a "new" Dangerous that is made up of the following eight songs: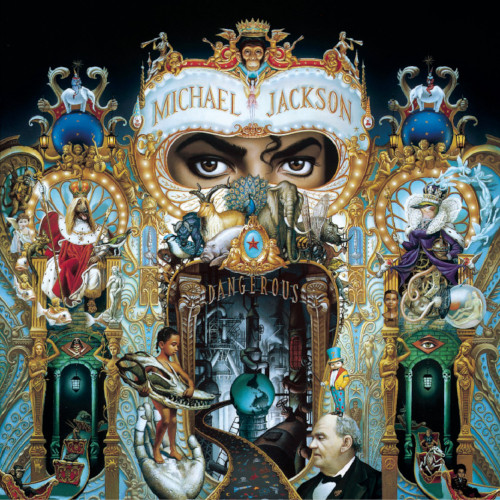 Jam
Why You Wanna Trip on Me?
In the Closet
She Drives Me Wild
Remember the Time
Can't Let Her Get Away
Who Is It?
Dangerous
The result is a leaner, meaner, and much more potent album that appropriately highlights the new sonic frontier that Michael Jackson was exploring in the early 90s. What's also interesting is that these eight tracks weigh in at 43:47, which quite nicely fills out a 46 minute vinyl record. Perhaps with the growing popularity of CDs, Jackson's record company pressured him to arbitrarily inflate the size and scope of the Dangerous project? (Note that the actual length of Dangerous is 77:03, and a CD is capable of holding 80:00, so this seems quite plausible.)
How much more musically impactful would this era of Michael Jackson have been if the "extra" tracks were released as EPs instead: the three uplifting tracks for one release, and the two rockers for another? Maybe Gone Too Soon could have been released as a single, or honestly… just released as a B-side to a single for Will You Be There?, or discarded outright. It's not a bad song, but also doesn't really offer anything on its own.
One thing is for certain: I'm never listening to Dangerous in its original presentation ever again.
Also interesting is that Dangerous: Expanded Edition was planned for release some time back, but somehow never surfaced. It makes me wonder if there are other tracks in the style of the eight above that have never seen the light of day. If so then this would be incredibly unfortunate, and hopefully would be fixed in the future.
Anyway, sorry Eddie—I'm gonna miss you and you certainly deserve the spotlight right now. For some reason this peculiar digression was necessary for me to deal with your loss, but I will atone tomorrow by blasting Fair Warning and 1984.
Hopefully the other side is as dazzling to you as you were to us here. @