A couple of weeks ago, right fielder Bryce Harper
scored a 13-year, $330 million dollar contract
with the Philadelphia Phillies. He will earn a $10 million dollar salary this season and will receive a $20 million dollar signing bonus. For the 2020 through 2028 seasons, he will earn a $26 million dollar annual salary. For the 2029 through 2031 seasons, he will earn a $22 million dollar annual salary. He also gets full no-trade protection, which means he doesn't have to worry about waking up one morning to the phone ringing with news that he is now living and working in another random U.S. city.
He also gets bonuses:
+$50,000 for each All-Star appearance
+$50,000 each time he earns a Gold Glove award
+$50,000 each time he earns a Silver Slugger award
+$50,000 each time he earns a League Championship MVP award
+$100,000 each time he earns a World Series MVP award
+$500,000 each time he earns a league MVP award
This is the largest contract in baseball history. Also this year, Manny Machado
signed a 10-year $300 million dollar contract with the San Diego Padres, which is arguably an equivalent or better deal. Last year, Giancarlo Stanton
signed a 13-year $325 million dollar contract with the Florida Marlins. While these are the most egregious examples, there are many more of these types of contracts in Major League Baseball.
By comparison, 99 years ago—in 1919—Babe Ruth
signed a three-year contract with the Boston Red Sox for $25,000. When accounting for inflation, this contract would be worth just $367,870.68, which is $1,237,129.32 less than the current minimum salary for all MLB players over the same duration of time. This means that perhaps the greatest player in the history of the game would be making just $122,623.56 per year in the modern day.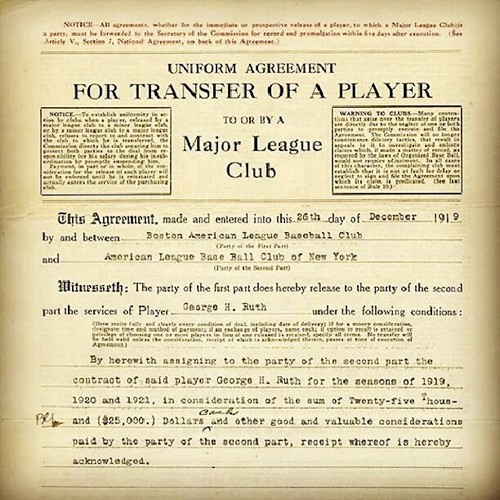 Also by comparison, $330 million is enough money to finance 25 man rosters for a 17 team baseball league with a median salary of $60,000… for a full 13 years! In other words, Bryce Harper's salary would pay the salaries of 425 baseball players in a provincial baseball league for 13 seasons. Of course, there would be additional costs associated with such a league—building/leasing stadiums, hiring/paying administrative staff, team travel costs, and so on—so maybe cut the total time down to five years from 13.
The sports world is paying one baseball player's salary instead of purchasing five years of provincial baseball with fair salaries for 425 highly capable players, many of whom would gladly go toe-to-toe with Mr. Harper on the ballfield. WHAT—THE—FUCK?!?