I stopped by Best Buy this afternoon as I was out grocery shopping (I really needed avocados) to see what sort of embarrassing high jinks were afoot. I had to park in the gravel lot next to the store because there wasn't space anywhere else. After going inside, I strolled up and down the aisles and decided I would try to be a good American (i.e. consumer-retard) and buy anything and everything that was of interest to me.
As expected, the environment was hectic and triggered a flashback from many years ago: I was living in San Francisco and travelling north to Redding on Christmas Eve so I could spend the holiday with friends and family. I am not very good at buying gifts and put this chore off till the last minute—I was naive and figured I would just quickly drop by a Target somewhere in the Bay Area and grab a few board games and some wrapping paper. It was Christmas Eve, after all, and there couldn't possibly be very many people out shopping. What a tremendous error in judgment! The store was a zoo, people were in a frenzy, and there was merchandise strewn across every aisle. This was a jarring realization for me: I figured there would be a few weirdos still out shopping, but had no clue there would be enough to fill a store. It was at this time that I began to understand why some people don't like Christmas.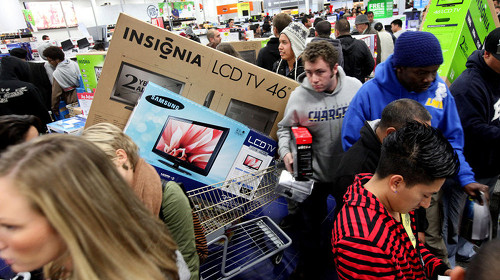 I spent at least 30 minutes walking through Best Buy, looking for worthwhile purchases and simultaneously soaking in the frenetic energy of the people around me. In that time, I covered most of the store, and only ended up grabbing the following items:
4K Movie, Blade Runner 2049, $14.99
4K Movie, Deadpool 2, $14.99
Xbox One Game, Doom 3 BFG Edition, $14.99
It seems that I wasn't very successful in my attempt at empassioned and untethered consumerism. I must be a bad American, but honestly there really wasn't very much in the way interesting stuff to spend money on. I haven't seen either of those movies yet, but I liked the two movies on which they were based. Doom 3 has been on the "to play" list since it came out nearly 15 [!] years ago. I guess I could have purchased the 4K movie player that was half off, or the 50″ 4K television that was $300 for my bedroom, or the fully 4K capable Xbox One X, but I wouldn't really use them all that much. The Xbox One S I purchased last year plays 4K discs not very well, but I don't watch movies or play games frequently enough for it to matter. If I put a TV in my bedroom then the quality of my sleep would decline, I wouldn't read as much, and my larger/better TV in the living room would get used even less than it does already.
Oh yeah, I also ordered two Apple-brand mini-DVI to DVI adapters for my two late 2009 Mac Mini model computers. They were about $8 a piece and were not on special.
So despite my best efforts, I only spent about $65 today. If groceries count then I spent about $135 total. Hopefully next year I will do a better job at being an American, but I probably won't.